Article highlights:
Addressing instant gratification in customers
Understanding delivery options
Questions to ask before deciding on a delivery option
In a previous article, we wrote about the importance of instant gratification to customers in today's fast-paced world. There can be no doubt that speedy, convenient and efficient delivery has become an integral part of this instant gratification urge demanded by customers. For quick-service restaurants, this means that offering the right delivery option is paramount for retaining loyal customers. So, what are your options?
In-House Delivery:
In-house delivery allows you to have direct control over your entire delivery process. It will, however, require you to invest in sourcing, hiring and training reliable drivers/delivery staff. You'll also need to purchase the necessary vehicles, be these cost-efficient cars or motorbikes. You'll also be responsible for implementing a cost-effective and reliable order management and delivery tracking solution. A huge benefit here is that both your staff uniforms and vehicles can be branded for high visibility and awareness.
Third-Party Delivery Services:
YUMBI offers full integration with highly trusted and regarded third-party delivery services like Uber Direct. These services are immensely popular with both quick-service restaurants and customers alike. By providing a ready-made delivery infrastructure, they allow quick-service restaurants to reach a wider customer base and therefore the prospect of increased sales and revenue. By choosing the services of a third-party delivery network, restaurants are better able to focus on their core competencies while quick, effective and efficient delivery is taken care of.
Kerbside Collect:
Kerbside collect offers customers the convenience of ordering ahead and having their meals delivered directly to their vehicles. Kerbside collect gained unprecedented popularity during the COVID-19 pandemic, with customers opting for stringent health and safety measures in an effort to safeguard themselves. Implementing kerbside collect offers great opportunities for heightened visibility due to the need for designated parking spaces, clear signage, and effective communication with customers to ensure a smooth kerbside experience.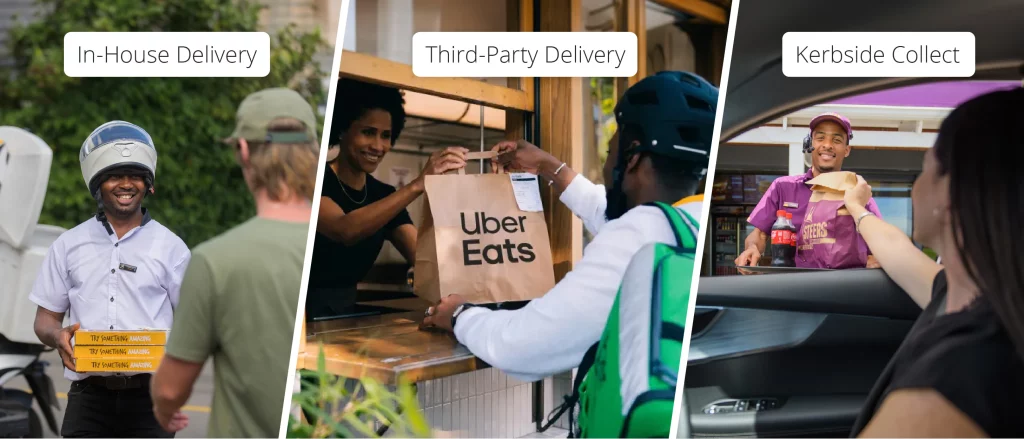 When deciding on which of these options to use or even combine, it's well worth asking yourself these 5 questions:
1. What is my customer delivery volume?
2. What is my budget?
3. What are the costs I will incur for each option?
4. Will my choice increase or decrease my operational efficiency?
5. Will my chosen option enhance customer satisfaction?
Now all that's left for you to do is choose the right delivery option for your restaurant and get on the road to success!