Article highlights:
Why using brand pre-approved campaign templates is beneficial to your franchise or QSR.
How YUMBI's Campaign Manager helps your franchise communicate with brand pre-approved campaign templates.
When to send promotional brand pre-approved campaigns to your customers.
When used correctly, SMS and Push Notification campaigns are powerful forms of customer communication that you can use to increase your QSR visibility and profits. They also let you engage with customers more effectively. That's why YUMBI, in conjunction with your franchise brand executives, has created brand pre-approved campaign templates for your use. These templates ensure that your campaigns carry your franchise brand style and tone, and are designed to work effectively, taking out the worry and uncertainty of having to create your own campaigns.
The benefits of SMS and Push Notification campaigns
Targeted reach: reach your customer database (who have opted-in to your SMS campaigns or have push notifications enabled) with promotional messages that they're highly likely to be receptive and responsive to.
Immediacy: SMS & Push messages are delivered instantly and are more likely to be opened than other forms of communication. It means that time-sensitive offers, limited-time deals, or last-minute promotions have an excellent chance of being read.
Cost-effective: SMS & Push campaigns are relatively inexpensive and offer a high return on investment. It makes them a cost-effective option for restaurants with limited budgets.
Drive foot traffic and online sales: SMS & Push campaigns for online orders offering a collect option (Skip the Queue & Order Ahead) help you drive foot traffic during slow periods and attract customers during special events or on specific days (such as on weekends) leading to increased sales. Campaigns can also encourage customers to order online for delivery – a convenient way for a customer to get his favourite meal delivered straight to his door.
Customer retention: Exclusive offers, and discounts, via SMS & Push notifications can foster a sense of customer loyalty by adding real value.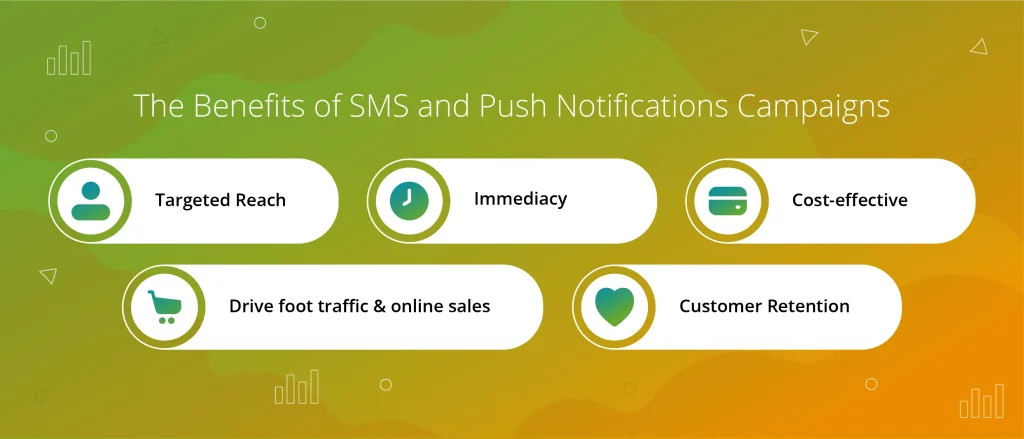 Using Campaign Manager with brand pre-approved SMS and Push Notification campaigns
YUMBI's Campaign Manager is housed on your dashboard within Engage and features a catalog of your brand pre-approved campaign templates to help you set up and schedule campaigns quickly, easily, and correctly. Here's how:
1. Select a brand pre-approved campaign template.
2. Decide how many customers to target based on your budget.
3. Select a date and time to schedule your campaign.
4. Preview the SMS or Push Notification.
5. Activate.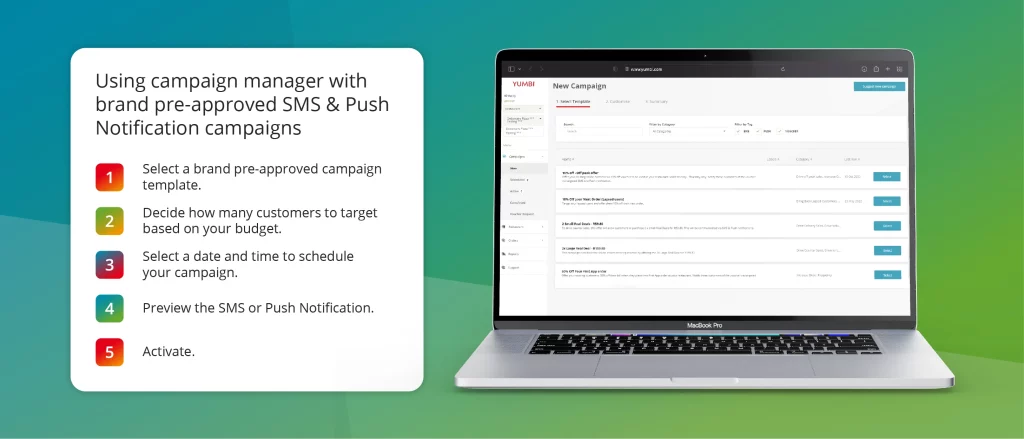 Examples of brand pre-approved templates include:
Discount off next online order Campaign.
Loadshedding Campaigns – let your customers know that you are still operating (and delivering if applicable)
Promotional Awareness Campaigns
Popular or Value Meal Campaigns
Lunchtime Deals: run promotions on specific menu items or value offers over lunch time.
Sharing Deals: aimed for peak times to encourage higher spend e.g. dinner time or weekends.
Have a new idea for a campaign that isn't already available, and would benefit the network? Click on the 'SUGGEST NEW CAMPAIGN' (top right-hand corner of Campaign Manager) and your suggestion will be sent to your relevant brand franchise marketing team for consideration.
When to send SMS & Push campaigns to your customers
Understanding when to send out your SMS & Push campaigns is critical to success or failure. The key here is not being intrusive, but sending your campaign when customers are most receptive. Sending an SMS at 2.00 am is not going to win you any friends! Aim to grab your customer's attention when they are likely to be considering what to eat for lunch or dinner that day.
On a legal level, Engage is set up to make sure you're compliant with WASPA (Wireless Application Service Providers' Association). You can strictly communicate with customers via SMS on the following days, between the times indicated:
Monday – Friday: 8 am – 8 pm
Saturday: 9am – 12pm
Sunday & Public Holidays: No SMS communication
Push notifcations however, have no restrictions and can be sent at any time on any day.
YUMBI has "Spam Guardrails" in place that are set so that customers can't be spoken to by Stores more than once per 1 hour and no more than 2 times in a 6 day rolling period.
We hope you find your franchise-specific, brand pre-approved campaigns to be a real asset to your marketing efforts and encourage you to use them each time you send out a new SMS or Push Notification campaign.