Article highlights:
Onboarding explained
Why you should be using High-Touch Engagement
How to encourage weekly orders
In the world of online food ordering, quick-service restaurants often experience difficulties acquiring and keeping new customers and in most cases, it can often cost more than what the customer actually spends on their very first order. In fact, it might take 2 to 3 orders from a new customer before you even break even. The reason – competition that keeps driving up the costs of digital marketing. But there are ways to combat this using cost-effective strategies to recoup those initial acquisition costs over time.
So, how do you make retention work for you? Well, it all starts with clear, strategic thinking and an easy-to-implement plan – a plan that works for both you and your customer.
We recommend breaking down your retention efforts into four digestible parts:
Onboarding
High-Touch Engagement
Deeper & Frequent Use
Counter-Churn
In this blog post, we'll focus on Onboarding and High-Touch Engagement. The other 2 strategies, Deeper & Frequent Use, and Counter Churn will be discussed in a future post.
Strategy 1: Encourage A Second Purchase (Onboarding)
Here's a somewhat alarming statistic: Only 27% of new customers typically place a second order. However, of those who do place that vital second order, a staggering 50% will go on to order at least 3.43 times within 90 days. In other words, motivating yourself to go after that second purchase can potentially unlock 2 to 4 additional orders from the same customer over the next 3 months! So reaching out to customers after their first order to encourage a second one can pay dividends at the till. Amazing what a small incentive to your first-time customers can do!
To increase your chances of triggering that second purchase, you might want to seriously consider the following strategies:
Multi-Channel Outreach: Send both an SMS (for web customers) and a push notification (for app customers) to ensure maximum coverage and reach.
Sweeten the deal: Include a voucher worth approximately one-quarter of your average order value to make the offer irresistible.
Timing is key: Send the message within 1-2 weeks of their first order so that the ordering process is still fresh in their minds.
Peak ordering hours: Hit them up just before peak ordering hours when hunger is at its highest and top-of-mind for your customers.
Remember, for some customers, ordering online or through an app can be a bit of a learning curve. But once they feel comfortable ordering from you online, they'll almost certainly be back for seconds, thirds, fourths, fifths, and more!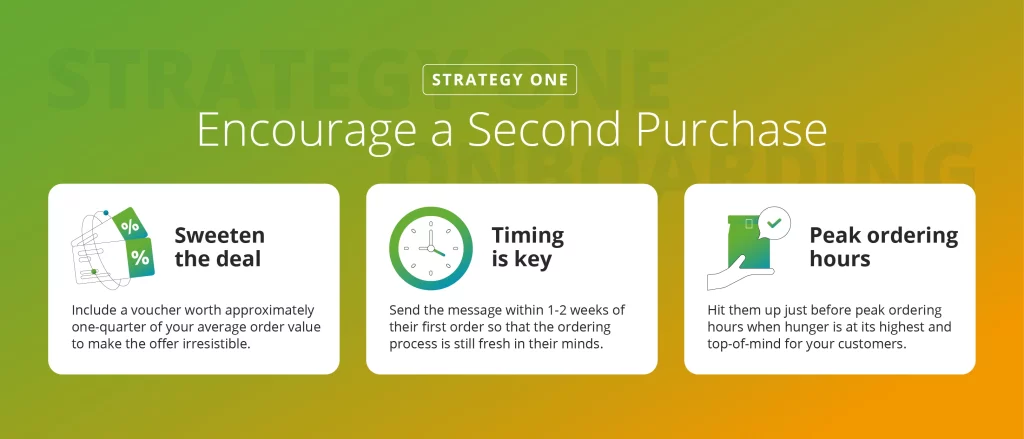 Strategy 2: Encourage habitual ordering (High-Touch Engagement)
As humans, we're hardwired to be creatures of habit. Think about it: every day, we follow similar patterns of behaviour, often influenced by external factors that gradually shape our routines and indeed, entire lives. This insight holds the key to boosting customer retention by encouraging habitual ordering.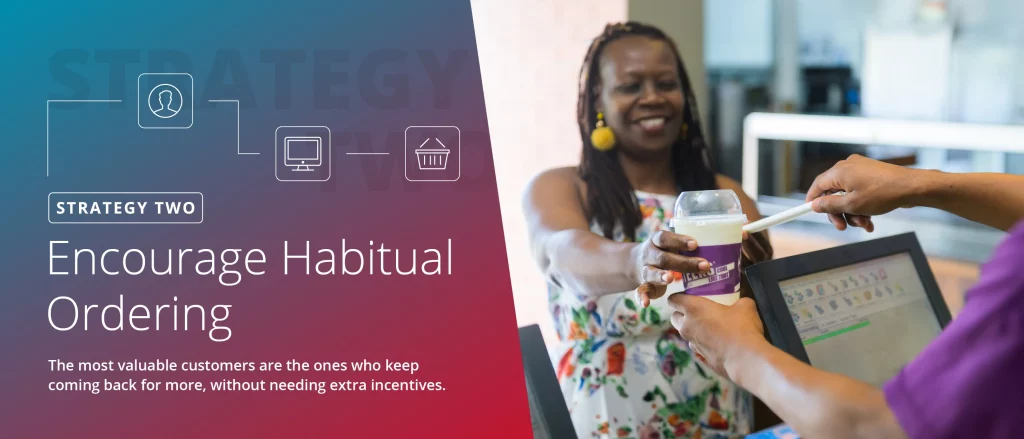 The most valuable customers are the ones who keep coming back for more, without needing extra incentives. These loyal, repeat customers are invaluable. So, the first step is to identify any existing behavioural patterns among these customers. Once we've painted a picture of the ideal customer, it's time to craft trigger-based messaging campaigns that inspire both new and existing customers to follow suit. Here's how it works in action:
Scenario: Encouraging Weekly Orders
Imagine an ideal customer who routinely orders their favourite meal every week, like a Flame Grilled XL burger. To get new and existing customers to adopt this same behaviour, we employ a simple yet effective strategy. Here's the breakdown:
The customer places an order for a Flame Grilled XL on a Friday.
Exactly one week passes.
Customer receives a friendly message, encouraging them to order a Flame Grilled XL again.
By suggesting that the customer simply repeats their previous order, we're presenting the path of least resistance for a successful order. It's the minimal effort required and an excellent way to establish a desirable behavioural pattern. So, in essence, we're nurturing the habit of weekly ordering, making it effortless and enjoyable for our customers to keep coming back for more.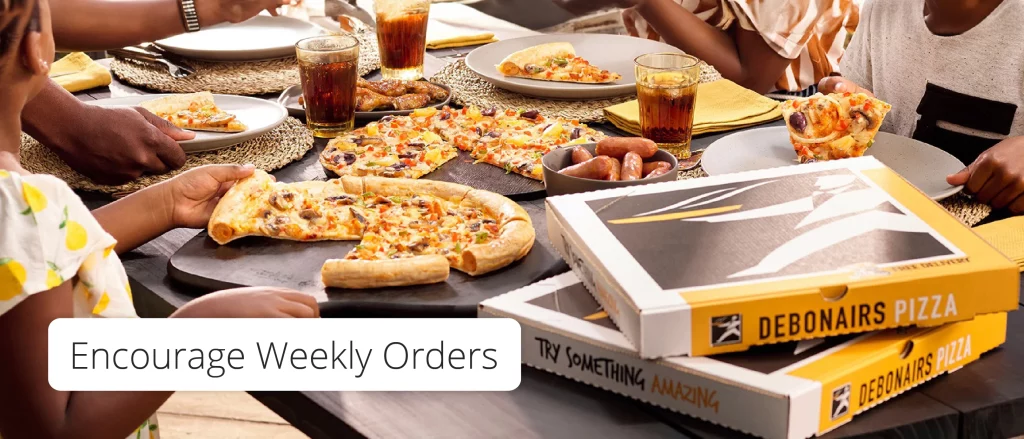 You'll be pleased to know that YUMBI's dynamic messaging campaigns can be easily used for the marketing and redemption of triggered voucher incentives as outlined in the scenario above. Any action that a customer takes inside an app or on a website can be used for voucher distribution. Start your retention efforts today, and reap the rewards tomorrow!