The holiday season is nearly upon us once again. And with that comes a change in consumer behaviour as people wind down and get into holiday mode. They have more disposable income on hand, and they want to spoil themselves and their nearest and dearest. So, they're a little more impulsive in their purchasing habits and can't resist a special offer.
Your customers want to relax over the holidays. The last thing they want to do is cook, so they're in the perfect mindset to order meals online.
"It's a profitable time of year for your restaurant business but also very competitive. So, by understanding how your customers' behaviour changes over the holiday season and utilising all the tools in your YUMBI toolbox will help you stand out from your competitors and maximise your profits," say YUMBI's Customer Success Team.
The team has the following advice for franchisees:
Make the most of the campaigns available to you.
We encourage you to run campaigns on promotions and send out communications informing your customer database of these offers. Log on to your YUMBI dashboard and see what's available to you. The great thing is you can schedule your campaigns in advance, or spontaneously at the time.
Important considerations when choosing and scheduling a campaign or promotion:
Think about what time of day to schedule your communication. For example, if you're trying to attract lunchtime customers, don't send a message at 9am when they're still full from breakfast. Instead, send it out at 11am, just before lunch, when they're starting to get hungry again.
Think about the mindset of your customer depending on the day of the week. For example, Mondays are generally quiet across the board. If you want to run a Monday promotion, make it a meat-free or low-calorie option. People want to start the week off healthy. Contrast that to a Friday when family and friends get together, and sharing or high-value meals makes more sense.
You can send as many campaigns as you like. And we encourage you to speak to your whole database rather than trying to segment them. We have a safety net on YUMBI's backend, where we'll automatically remove a contact from a mail-drop if you've reached your recommended communication cap. The last thing you want to do is spam people, but we have your back. You don't need to worry about this.
Use the YUMBI app features to run your business effortlessly
You can expect more traffic over the holiday season. Make sure you're ready for the increased demand by beefing up your kitchen staff and delivery fleet. YUMBI also has some excellent self-service features and controls to help you manage the increased online traffic and to manage customer expectations.
On/off toggle for online orders. Turn it off if your restaurant is overwhelmed or keep it on if operating outside of regular hours.
Delivery zones can be adjusted to minimise or maximise delivery range. For example, suppose it's a busy period, and you can't deliver to the outer edge of your delivery zone. In that case, you can adjust your delivery area for a day or even a few hours.
Turn off certain menu items or ingredients if you run out of stock.
On/off toggle for restaurant operating times. For example, you can show you're closed on Christmas Day (which happens to be a Sunday this year), or you can adjust to your extended opening hours.
Tip: Create a Campaign Calendar
Often, just sending a message to customers with little-to-no incentive included can be enough to trigger a purchase. However, regularly staying in touch with customers may seem simple, but it can be challenging, especially over a busy period like the festive season.
Therefore, building a campaign calendar a full month in advance can help maintain a constant dialogue with customers. A campaign calendar lists all marketing-related customer communications for the month ahead. In addition, it includes the day and time the messages will be sent.
Example campaign calendar: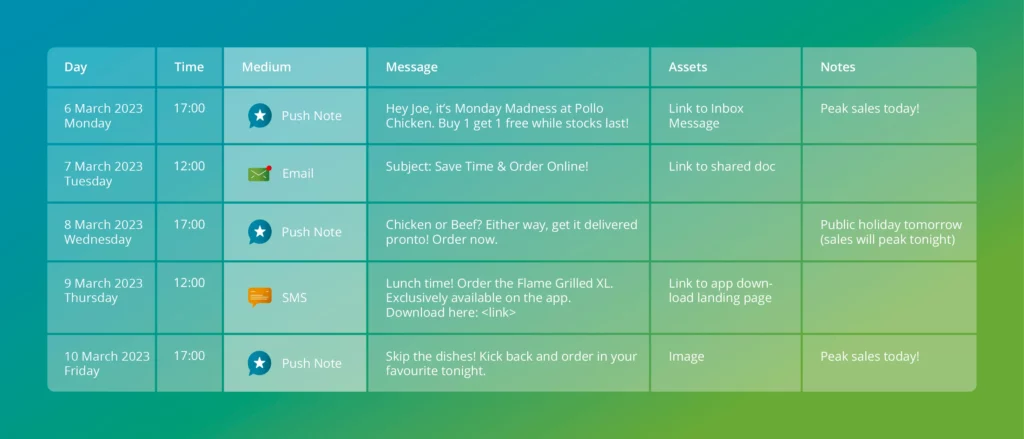 Table: Example campaign calendar for Pollo Chicken
Creating a campaign calendar in advance is also an excellent way to align messaging with noteworthy days of the year, such as public holidays and major events. In addition, aligning messaging with new menu items or special offers also makes sense.
Generally speaking, consistent messaging equals more revenue. Staying top-of-mind in a crowded ecosystem of competitive aggregators and alternate dining options has made it necessary to send frequent communication. Consider the following recommended frequency:
Push notifications: 3-5 per week
SMS: 1-2 per week
Email: 2-4 per month
The YUMBI team suggests speaking to your franchise manager should you have any campaign ideas that you'd like to pose. There is a suggestion option on the YUMBI dashboard to submit your campaign ideas e.g., buy 2 large pizzas and get a free Coke. This gets forwarded to your brand team, who will decide on whether or not to create the template. They're more likely to accept it if it's an idea that will benefit most stores in the franchise. Should it be approved, they will then brief it into the YUMBI team.
From the team at YUMBI, we wish all restaurateurs a profitable holiday season.
Not yet on the YUMBI app? Contact us at connect@yumbi.com.