There's so much you can do with online food ordering platforms today. It's no longer simply about allowing your quick-service restaurant to offer customers an efficient, quick, and easy online ordering experience. Today, technologically advanced online food ordering platforms allow marketers, brand owners, and franchisees to truly use the power of technology to run a fully integrated online operation that includes everything from ordering, to data-rich customer and sales reports, specials and promotions, delivery and call-in services and so much more. Knowing which products and solutions are the correct and most relevant choices for a quick-service restaurant chain (and when to use them) goes a long way to maximising an efficient online operation. This guide will help you in deciding which YUMBI products are best suited to your quick-service restaurant. Here are the questions we get asked most frequently…
Is YUMBI suited to both big and small restaurant chains?
Although YUMBI can be used with great effect no matter the size of your quick-service restaurant offering, it is better suited to larger, established franchise brands with multiple restaurants (10 and above) who want to GET, KEEP and GROW their customer base and who seek more than simply an online food ordering platform. Restaurant chains will derive exceptional benefits from the power of all YUMBI solutions combined. So whether you have 5 restaurants or 20 restaurants, YUMBI will most certainly add value to your online effort, however, it is geared towards larger chains.
What value will YUMBI deliver to my quick-service restaurant?
With 10 years experience in developing and creating customer-focused ordering channels from the ground up, we have an intimate knowledge of what works best for QSR online. We've done the homework and developed the strategies to eliminate pain points in the ordering experience for your customers. As such, YUMBI allows your quick-service restaurant to offer customers an efficient, quick and easy online ordering experience both on the app and your website – on mobile, computer, Android, and IOS. But more than this, it enables brand owners, their marketing teams, and franchisees to operate with a high degree of online efficiency thanks to powerful tools and resources. This includes rich-data reporting, targeted customer marketing, including set-up of menus, specials and promotions, customer feedback, communication and ordering behaviour and so much more.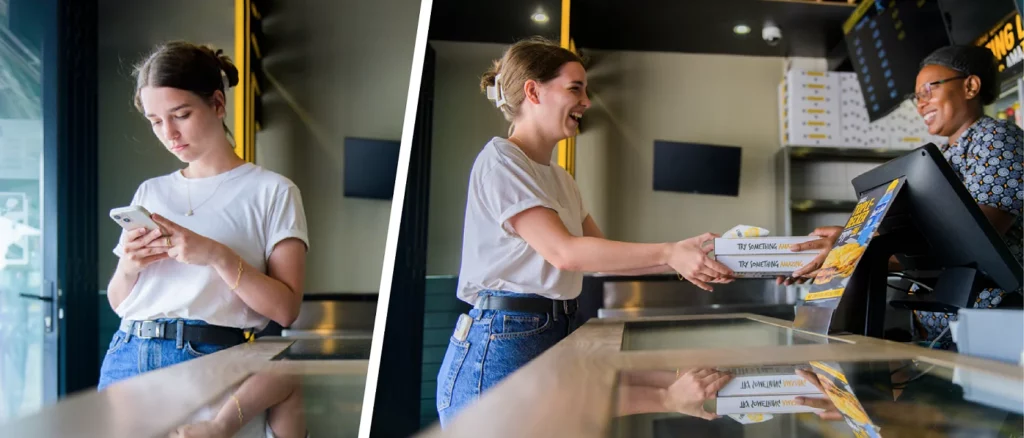 What YUMBI products are essential to start off with?
There are 3 critical products needed to start with that will be hugely beneficial from the get-go. These are:
STOREFRONT: Feature-rich, customisable storefront. This is the face of your quick-service restaurant ordering platform that customers will see. This white-labeled ordering platform brings responsive web design and app solutions to both the Android and IOS operating systems to engage customers and satisfy their food ordering needs. A built-in secure payment gateway allows for the pre-payment of orders. From your StoreFront Dashboard, you can enable/disable online orders, refund online payments, remove out-of-stock items and manage delivery zones. You can also integrate StoreFront with additional third-party apps on the YUMBI platform as the need arises.
On a customer level, returning customer order history and favourites are shown on their own profile for ease of repeat orders. Available vouchers are also displayed on their home screen and available to use from their eWallet.
INSIGHT: Real-time cloud-based insights that assist you in understanding all operational aspects of your business – from marketing efforts through to customer behaviour. The Uptime Report provides insight into operational online status performance both by day and hour. The Failed Order Report provides an overview of unsuccessful orders per outlet. The Call Report provides information from your Switchboard calls (if you are signed up with our Call-in order platform – Switchboard). The Campaign Summary Report provides campaign details over a specific time period and shows how your campaign/s has performed. In addition, there are a host of other reports that deliver exceptional value by offering deep insights, analysis and statistics to multiple areas of your QSR business.
ENGAGE: As your quick-service restaurant business grows, YUMBI becomes increasingly important as the food ordering platform that's right for you. Engage is where your customer loyalty and marketing effort comes to life. To get, keep and grow customers, this is where you'll initiate campaigns and e-Vouchers, reward and incentivise customers, manage feedback like compliments and complaints. The Smart Campaigns system allows for cost-effective SMS messaging and Push Notifications to keep you top-of-mind with your customer base.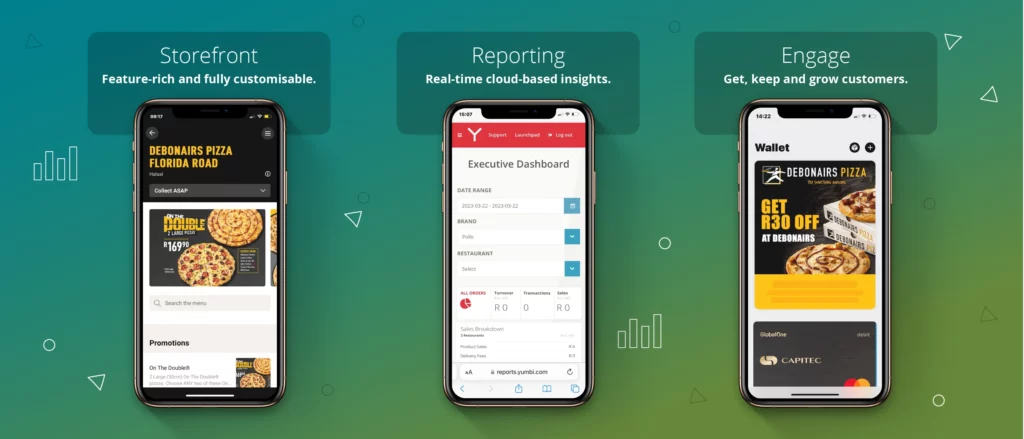 What are add-ons and when should I use them?
As explained, you will always need to start with StoreFront. StoreFront also includes the Reports and Engage solutions. As your business grows, you will want to start considering various Add-Ons. Add-Ons are YUMBI-specific solutions (like SwitchBoard, BeHeard, Dine-In, and To-Go) that give you even greater power to build your brand and create a strong, loyal customer following. Our Customer Success Team will always be at hand to assist, guide, and advise you once you're ready to explore these exciting solutions.
Not yet on the YUMBI platform? Contact us at connect@yumbi.com for a free demo.